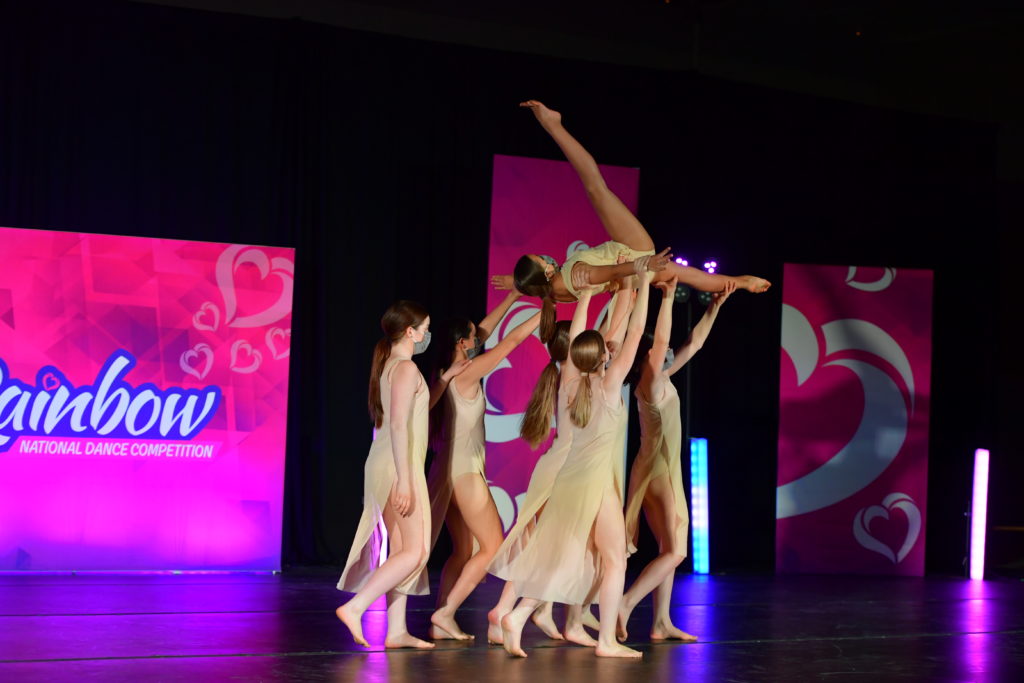 COMPETITIONS – WINTER/SPRING 2021
Celebrity Dance – Jan 21:
Highlights include 3rd Overall Teen Duo/Trio to McKenna and Raleigh and 5th Overall Junior Duo/Trio to Cece, Ava and Kyra! Sam A also won the Celebrity Spirit Award!
Rainbow Dance Competition – Feb 21:
What a great first competition back for our whole Company! We had a blast attending this competition at the Gaylord of the Rockies! All our dancers did SO well, and we took Top 5 in every age group in both Division One and Division Two that we entered! First Place finishes include: JR Onyx Jazz, JR Onyx Hip Hop and for the Juniors – Carly/Katie's Duo in Div. 2 and Ava/Cece/Kyra Trio in Div. 1! Teen Iris Contemporary won 1st, Teen Onyx Jazz, Hip Hop, Tap and Contemporary were all Top 5, and Teen Iris Jazz won First in their Division! Senior Iris and Onyx Contemporary, Tap, Jazz and Hip Hop were all Top 5 as well! Teen Duo/Trio Division 2 was won by Georgie/Lydia/Maddy Trio, and The Senior Duo/Trio Division 2 was won by Allie/Mayson/Kylie trio and Senior Div 2 Solo winner for this competition was Caroline! Junior Onyx Jazz "Lonely Teardrops" won the Entertainment Award and Best Choreography to Christy Sinkey for that dance. Judge's Choice Awards were given to Judas, Footloose, The Red Queen and Grenade! Congratulations, dancers! You guys were AWESOME!
COMPETITIONS – Spring 2020
Although our 2020 Competition season was cut short because of COVID-19, we still were able to attend a few competitions, including Rainbow in Colorado Springs and Showstopper Competition in Denver, where our Dance Company enjoyed tons of success and FUN! Highlights from Rainbow include The Super Line Champions with "Please Sir, I Want Some More…", Overall Winners in the Mini Division ("Seaside Rendezvous"), Overall Winner Junior Division ("Don't Worry, Be Happy"), which also won the Choreography Award, Teen Overall Winners w/ "Constellation" and Senior Overall Winners w/"Life In The City"! Congrats, dancers!!