Join GSSD in celebrating our 13th Annual
Holiday Spectacular Performance!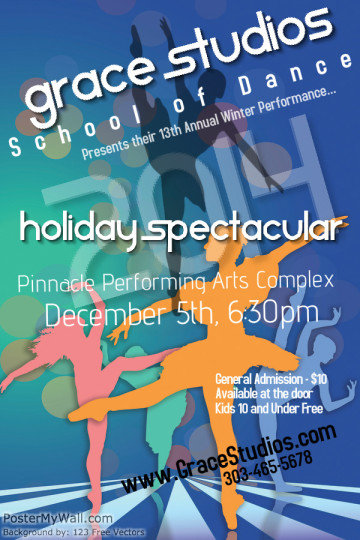 All Grace Studios Dancers will perform at the Pinnacle on Friday, December 5th at 6:30pm. General Admission is available at the door for $10, Children 10 and Under are free. GSSD Students will each receive 2 complimentary tickets. Don't miss this fantastic show! We've been working hard all Fall to prepare for this epic night of dance!
Please visit our Holiday Spectacular Page to view the Dress Rehearsal Call Times, Show Order and Picture Schedule. Additionally, don't forget to find out who your 2014 DANCE BUDDY is! 
However, we will open for new registration again for the Winter/Spring 2015 Semester November 1st. Please email for class availability, as some classes are full. You can email registration@gracestudios.com for more info.
Fall 2014 is going along great! Please join us for our upcoming 2014 Holiday Spectacular this December 5th, at 6:3opm at the Pinnacle Performing Arts Complex! All Fall 2014 dancers will participate.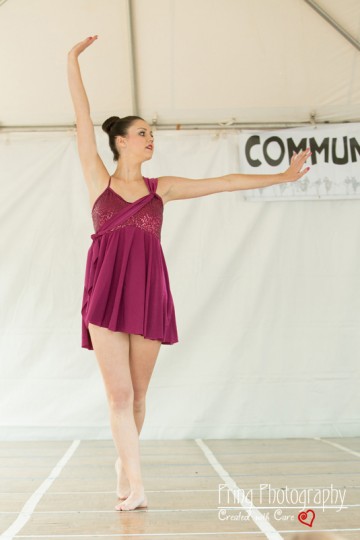 Sign up today to ensure your spot for our upcoming 2014-2015 Season at GSSD!
Fall Classes begin the week of AUGUST 24th!
The Fall Semester will culminate with our Holiday Spectacular Performances at the Pinnacle Performing Arts Complex on December 5th.
Come dance with GSSD…celebrate life through dance!
CLICK HERE FOR ONLINE REGISTRATION or to view the 2015 Schedule, click on the image below!
Good luck to all our 2013-2014 Company Dancers competing in Anaheim and the Spotlight Dance Cup Nationals this week (July 7th-13th)! Please remember that there are NOT regular summer classes this week, or Monday, July 14th. Send your good vibrations to California … we are pumped and ready for Nationals!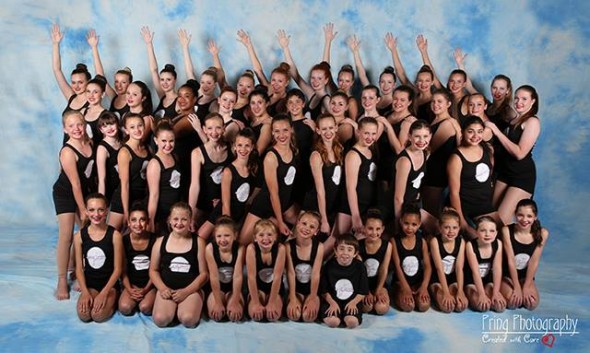 We are so excited for all the performances this week!

GSSD dancers will be performing at 4pm at the Boulder Creek Festival at the Community Stage (off 9th Street, Between Arapahoe and Canyon). Dancers, please arrive in costume by 3:30pm. Here is the line-up (in the correct order)…
PYT
The Flood
Land of a Thousand Dances
Titanium
Birthday
YOLO Heads
Gone
Let It Go
Animal
Something Beautiful
Dance With Me Tonight
Turn To Stone
Me and Julio
Smash It
MAP OF THE FESTIVAL

Interested in joining the Award Winning Spirit Dance Company at Grace Studios? Please mark your calendars! Auditions for the 2014-2015 Company will be held on Monday, May 19th.
Ages 6-10yrs – 4:30-5:45pm
Ages 11-13yrs – 5:45-7:00pm
Ages 14-18yrs – 7:00-8:30pm
You may be asked to stay through to the next audition time. Please arrive at least 15 minutes early to fill out audition form, get your audition number and stretch. You need to wear appropriate dance attire (boy shorts, leotard/cami, jazz pants, hair back away from face, etc.)
Please sign up at the studio, or register online.
To learn more about the Spirit Dance Company, visit the company page! There is a $15 audition fee for all dancers.
SAVE TIME! Download the Audition Form and fill it out beforehand! 
CLICK HERE FOR AN UPDATED COMPETITION SCHEDULE!
RAINBOW – Saturday, March 8th
SPOTLIGHT 1 – Saturday, March 15th
SPOTLIGHT 2 – Friday and Saturday, April 11th and 12th
NEXSTAR – April 25th-April 27th