On Sunday, May 26th, GSSD has been invited to perform at the Boulder Creek Festival. All participating dancers need to arrive by 3:45 dressed and ready to go! Please click on the link for more information!
Congratulations to the Spirit Dance Hip Hop Companies on becoming the REGIONAL CHAMPION!
Good luck this weekend at OnStageNY!

Auditions for the 2013-2014 Season are:
Ages 12-18 yrs-Monday 5/6 – 6:30-8:30
Ages 6-12 yrs-Tuesday 5/7 – 5:30-7:30
12 year old dancers need to attend both auditions. Please email christy@gracestudios.com for more information or to sign up.
For 2013, we have added lots of new classes added to our summer program! From Music Theatre and Performance to Boot Camp, Improv and Wacking classes, GSSD has a perfect class for you! Whether you're a beginner dancer or have been dancing your entire life, we know you'll find something to love this summer at GSSD! Register early, as space is limited and many of our classes will fill quickly. You can register online or email christy@gracestudios.com with any questions!
CLICK HERE to view important GSSD news and dates, including audition information, performance information and end of the year news…
The 2013-2014 Spirit Dance Company Auditions will be held May 6th and 7th at GSSD.
6-12 yrs – Tuesday, May 7th from 5:30-7:30pm
12-18 yrs – Monday, May 6th from 6:30-8:30pm
Please come with all your dance shoes and your hair tied back with proper dance attire. If you are new to GSSD, you will need to fill out a liability waiver. All dancers will need to fill out an audition form. Please sign up for auditions at the studio or email christy@gracestudios.com with your name, birthday, and what companies you will be auditioning for (ie Tap, Hip Hop, Jazz, etc). Some dancers on Monday may be asked to also come on Tuesday. ALL 12 year olds need to audition both days. Good luck dancers! Anyone is welcome to audition – no dance experience required! All CURRENT SDC DANCERS ARE REQUIRED TO AUDITION.
Congratulations to all our SDC Company Dancers who participated in Rainbow Competition! We had a blast!
Highlights include:
Divisional Wins for: Talia and Grace ("A Team"), Georgie and Devin ("Rock This Town"), Kayla ("Falling Slowly"), Teen Hip Hop ("Monsters, Inc"), Senior Tap II ("Bounce Me Brother With A Solid Four"), and Senior Jazz ("Money")
Top 5 In Division for : Brooke N ("Mad Hatter"), Lexie H ("Happy"), Teen Jazz II ("Grace") and the Minis ("Bookworms")
Video of the Year for Starz of Tomorrow: The Minis ("Bookworms")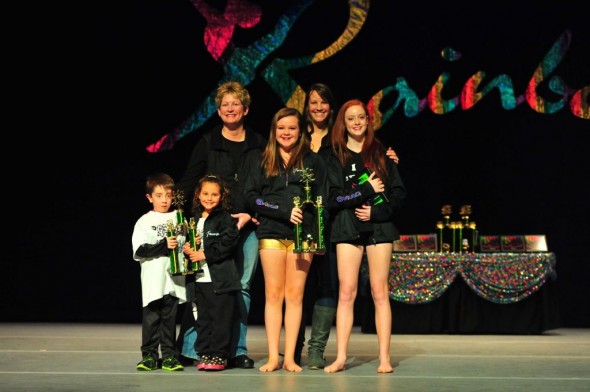 Georgie and Devin with their teacher Miss Stephanie and Grace and Talia with Miss Christy – winners of High Point for 8 and Under Duo/Trios and 9-12 Duo/Trios. Congratulations Dancers!
CLASSES START MONDAY, JAN 7th!
Please click here to view the Spring 2013 Schedule! Classes begin January 7th, 2013. There are many classes that are open for registration. We are also starting new classes, including a beginning teen tap class and an advanced teen/adult tap class. Please contact us via email to receive more information. Registration deadline for the 2013 Spring Semester is February 1st.