New classes are now available for registration. Click here to view our 2014 Schedule! Some classes are full or are almost full, so please register ASAP or Email Christy or Stephanie with any questions!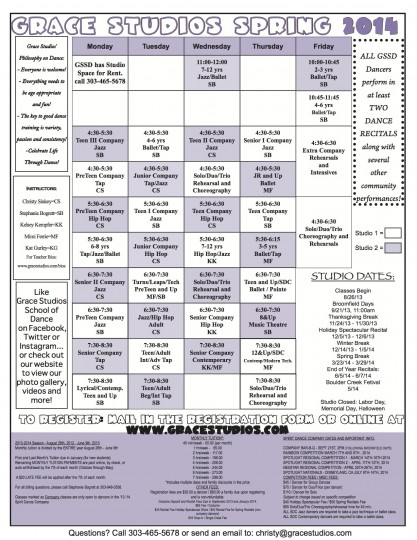 Join GSSD for a short performance at Broomfield Days (on the Demo Stage) on Saturday, September 21st. 11am – dancers, please arrive by 10:40 in costume and make-up. Company meeting at the studio to follow at 2:30pm. We will be fitting for shoes and have all info about competitions, performances and Nationals in Anaheim.
GSSD will hold regular classes on Monday, Sept. 16th and Tuesday, Sept. 17th. We hope that you can all make it, but understand if you cannot. Obviously, your safety is our number one priority. Our hearts and prayers go out to those of you who have suffered any loss as a result of the floods. We hope holding classes can cure some of the inevitable cabin fever that we know many of you are experiencing. Do not stress though, if you find it impossible to get to the studio. We will just see you next week!
Normally, GSSD will go along with BVSD in terms of closures due to weather conditions. Also, we will always post here on the website, and on Facebook and Twitter about class changes.