Interested in joining the Award Winning Spirit Dance Company at Grace Studios? Please mark your calendars! Auditions for the 2014-2015 Company will be held on Monday, May 19th.
Ages 6-10yrs – 4:30-5:45pm
Ages 11-13yrs – 5:45-7:00pm
Ages 14-18yrs – 7:00-8:30pm
You may be asked to stay through to the next audition time. Please arrive at least 15 minutes early to fill out audition form, get your audition number and stretch. You need to wear appropriate dance attire (boy shorts, leotard/cami, jazz pants, hair back away from face, etc.)
Please sign up at the studio, or register online
To learn more about the Spirit Dance Company, visit the company page!
CLICK HERE FOR AN UPDATED COMPETITION SCHEDULE!
RAINBOW – Saturday, March 8th
SPOTLIGHT 1 – Saturday, March 15th
SPOTLIGHT 2 – Friday and Saturday, April 11th and 12th
NEXSTAR – April 25th-April 27th

New classes are now available for registration. Click here to view our 2014 Schedule! Some classes are full or are almost full, so please register ASAP or Email Christy or Stephanie with any questions!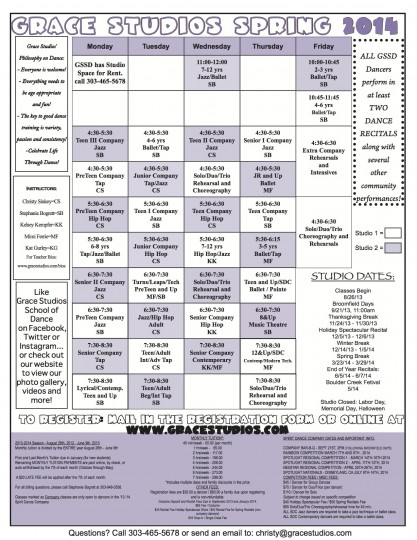 Join GSSD for a short performance at Broomfield Days (on the Demo Stage) on Saturday, September 21st. 11am – dancers, please arrive by 10:40 in costume and make-up. Company meeting at the studio to follow at 2:30pm. We will be fitting for shoes and have all info about competitions, performances and Nationals in Anaheim.